AIRCRAFT HANDLING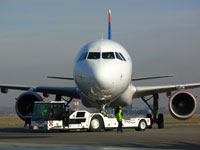 SAGAT Handling offers all ground services that are directly related to air carrier flight operations. Its aim is to ensure that all activities are carried out easily, quickly, efficiently and safely.
As a standard, all of our services are provided in accordance with IATA regulations and are performed by personnel with extensive training and vast specific experience in all airport activities.
SAGAT Handling is able to serve more than 100 different types of aircraft, thanks to the competence of its employees and the availability of the most up-to-date equipment for ramp services.
The services include:
Weight and balance.
Flight dispatch services.
Marshalling.
Passenger, crew and baggage transport.
Aircraft loading and unloading.
Aircraft towing.
Cleaning, toilet services and drinking water.
De-icing.
Supervision.