CARGO AND MAIL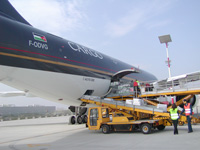 SAGAT Handling provides a wide range of dedicated services, enabling the company to meet the various demands of client airline companies.
Choosing Torino Caselle is easy, due to the benefits provided by the airport and by our organisation.
Accessibility and logistical advantages
Torino airport is situated in a strategic area of Western Europe, at the centre of an important axes of communication (Geneva/Genoa and Verona/Lyon/Marseille).
Torino Caselle is 16 kilometres from the city centre and is directly linked to the motorway network, enabling you to quickly reach the most important towns in Northern Italy, Southern France, Spain and, via the Frejus Tunnel, all of Central and Western Europe.
Competitive advantages
Aeronautic complex capable of attracting foreign investments for localised industry.
High quality services and ability to handle a huge quantity of cargo.
Structures that are perfectly capable of handling a considerable amount of cargo traffic.
Personalised service for client companies.
Investments to create infrastructures and systems for the growth of traffic, as required by the market.
Operational advantages
Cargo assistance and customs service available 24 hours a day.
3,300 metre runway equipped with up-to-date landing systems (Cat. 3B).
High standards of service. Well-trained personnel with extensive experience.
Cargo assistance for all types of aircraft.
3H turnaround for loading/unloading a B747-Freighter.
Cargo buildings in close proximity to the aircraft apron.
Traffic is not congested. Reduction of cargo/delivery acceptance times.
Cargo collection point in Milan (with the possibility of palletisation) with shuttle transport to Torino.
CONTACTS
CARGO MANAGER
Ph. +39.011.5676225
Fax +39.011.5676423
cargo.sh@sagat.trn.it
CARGO OPERATIONS OFFICE
Ph. +39.011.5676310 Import/Export/Tracing
Fax +39.011.5676423
cargotrn@alpinaservice.it
Telex: 220246 SAGAT-I
Sita: TRNKFXH, TRNKOXH (Ops)