PASSENGER SERVICES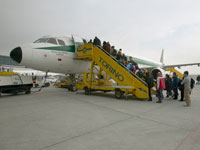 SAGAT Handling offers all ground services that are directly related to air carrier flight operations. Its aim is to ensure that all activities are carried out easily, quickly, efficiently and safely.
As a standard, all of our services are provided in accordance with IATA regulations and are performed by personnel with extensive training and vast specific experience in all airport activities.
The experience of a group that operates in the sector since 1956 and the ability to offer personalised services express the professionalism and reliability of our company. Furthermore, quality and safety procedures are constantly updated, guaranteeing that the maximum level of attention is given to the client.
The services include:
Dedicated check-in facilities.
Specific airline DCS services.
Passenger boarding and disembarkation.
Special services for disabled passengers, unaccompanied minors and VIPs.
Lost and found.
Handling of disruptions.
Supervision.
Airport lounge.